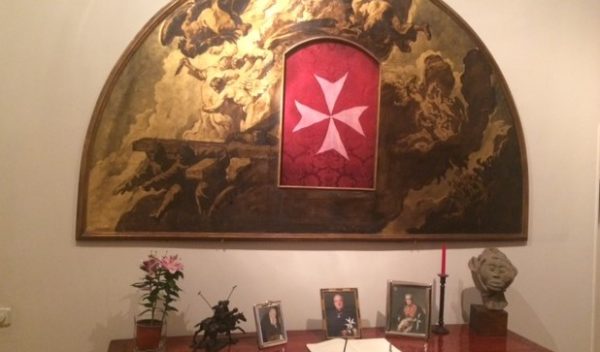 The Embassy of the Order to the Kingdom of Spain (Residence and Chauncery) has its seat in Madrid (Calle del Prado).  Our offices are open every week day from 11 to 14 hours.
The Embassy is composed by the following diplomats:
Ambassador Jean-Marie Musy
Minister Counsellor Maximilian von Habsburg
and a secretariat with one assistant.
Every State celebrates the "National Day".  For the Sovereign Order of Malta this event is on 24 June, for the Feast of St. John the Baptist, Patron of the Order of Malta.
The Embassy celebrates St. John the Baptist with a reception, where all the Ambassadors accredited to the Kingdom of Spain are invited, together with Spanish institutions and authorities.
List of the Representatives/Ambassadors of the Order of Malta to the Kingdom of Spain:
Plenipotentiary Ministers:
H.E. José Yangues Messia (1938 – 1944)
H.E. Renato Pignatelli (1944 – 1961)
H.E. Raffaele Guariglia (1961 – 1970)
Ambassadors:
H.E. Nicolas Tchkotoua (1970 – 1973)
H.E. Maximilian Khevenhueller (1973 – 1977)
H.E. Basilio Freire Caeiro da Mata (1977 – 1997)
H.E. Ferdinand Orssich (1998 – 2003)
H.E. Jean-Marie Musy (2003)
Foreign Diplomatic Missions in Spain: http://www.exteriores.gob.es/Portal/es/Ministerio/Protocolo/Documents/2ALISTA.pdf